05 November 2021
WE DON'T MAKE UPPERS, BUT YOU CAN WITH MIC
#ApplicaMIC
The upper is the upper part of the footwear and has the function of protecting and covering the instep.
The upper consists of a shaped cutout, commonly made of leather, fabric or plastic, which is joined to the sole by stitching, gluing or vulcanising. The term 'upper' comes from the Greek tomàrion, which means 'leather cutout'.
Depending on the model of the shoe, the upper may consist of a single piece or be made up of several components (vamp, cuff, toe cap, tongue, etc.) sewn together to create a foot covering more in line with the predefined design.
Nowadays, shoes with sock woven uppers (sock shoes, sock-sneakers or snockers) are becoming increasingly popular. They consist of an upper woven with the typical workmanship of sock manufacturers, and will be seamless if shaped circularly, or can be made linearly and then closed by stitching in the back of the shoe.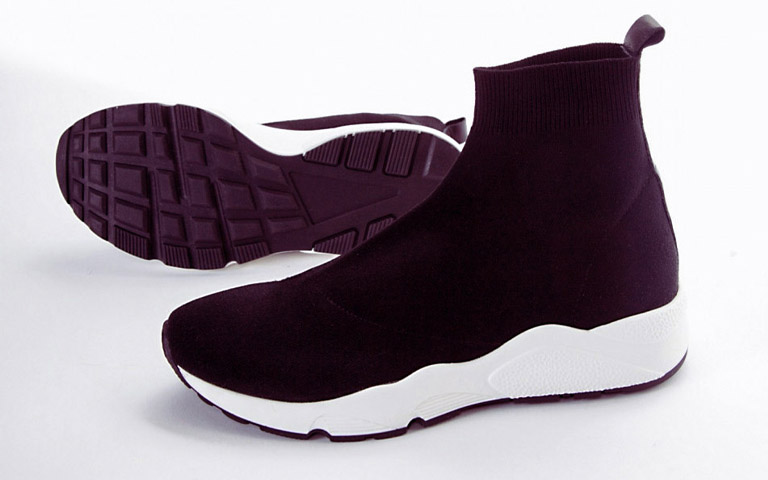 OUR SELECTION FOR WOVEN UPPERS
MIC produces yarns for the production of woven uppers, for sock shoes (sock-sneakers or snockers). MIC yarns are available from stock service in the 450 shades of the general MIC colour chart.
Textured yarn and core yarn, are the most widely used yarns in the production of woven uppers for their strength, volume and colour fastness, as well as for the versatility of the treatments and colour effects that can be applied on request to obtain specific results, such as water-repellent, antibacterial, reflective, antistatic and many others.
Upper made of recycled polyester GRS 2019-210 twisted and textured, with phosphorescent polyester yarn twine.
Upper made of twisted and textured biodegradable nylon, with a reflective polyester twine.
Upper made of polyester yarn in jacquard process with shiny trilobal polyester and insert in silver metallic yarn.
Upper made of indigo polycotton jacquard and GOTS 2008-060 certified organic cotton.