STRIPE SHIRT
Colour veins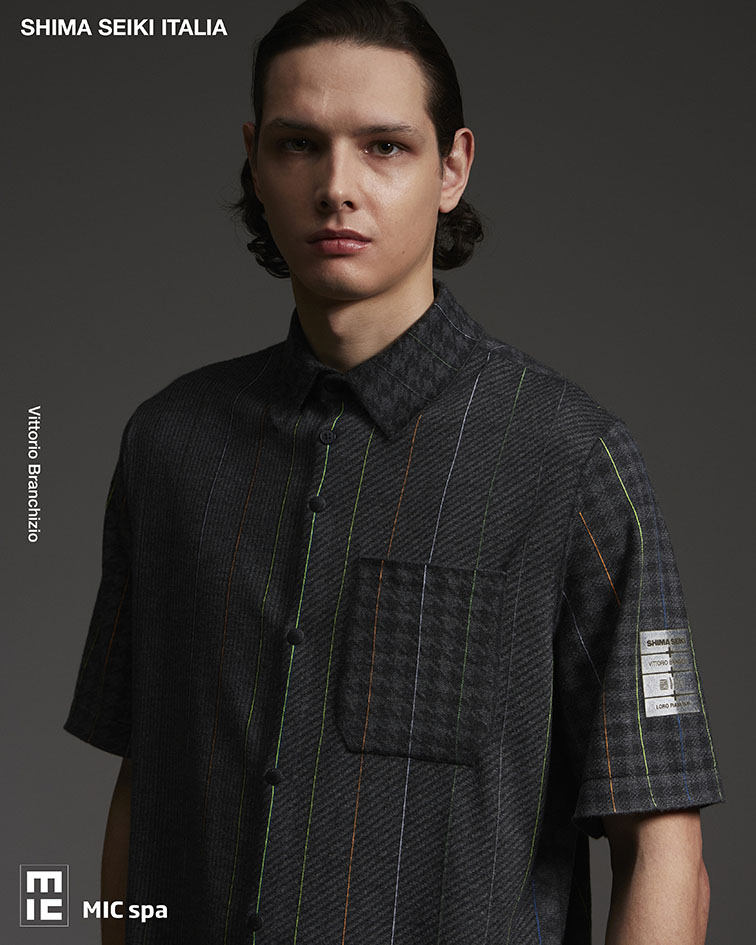 MULTIGRAPHIC FASHION
The 92nd edition of Pitti Immagine Filati was the occasion for the presentation of the Evolution Knit collection by Vittorio Branchizio, creative director of Shima Seiki Italia, at the stand of the Japanese company.
The 12 garments of the capsule collection exploit VB's material expertise and attention to experimentation, the precision and technology of Shima Seiki machines, and the technical characteristics of the different fibres used.
The stripe shirt presented here is the result of VB's experimentation with the No. SIR 120 SP IP 18 G - fineness 18 - machine for the shirt, and the Shima Seiki SVR 183 IP 14G - fineness 14 - machine to produce an inlaid multi-grain shirt on an IP (Inverse Plating) basis.
For this suit - jacket + trousers - 15 inlay thread guides were processed. Natural fibres were combined with synthetic fibres for the processing. The heaviness of this garment is achieved with a bonded stockinette stitch.
15 threadguides were used to produce this suit, each with one or more yarns:
- CASHMERE 2/52 colour Anthracite
- CASHMERE 2/80 colour Smoke
- RECYCLED POLYAMIDE 70/2 colour Naranja, Amarillo, Verd, Metallic, White, Marengo
- POLYESTER TESTURIZED ELAN 10 - by MIC colour Grey, Blue
- ELASTOMER 1/60
- POLYESTER 1/60 colour Black
Production time: 214'00'' Jacket | 170'00'' Trousers