CASUAL SUIT
deconstructing the suit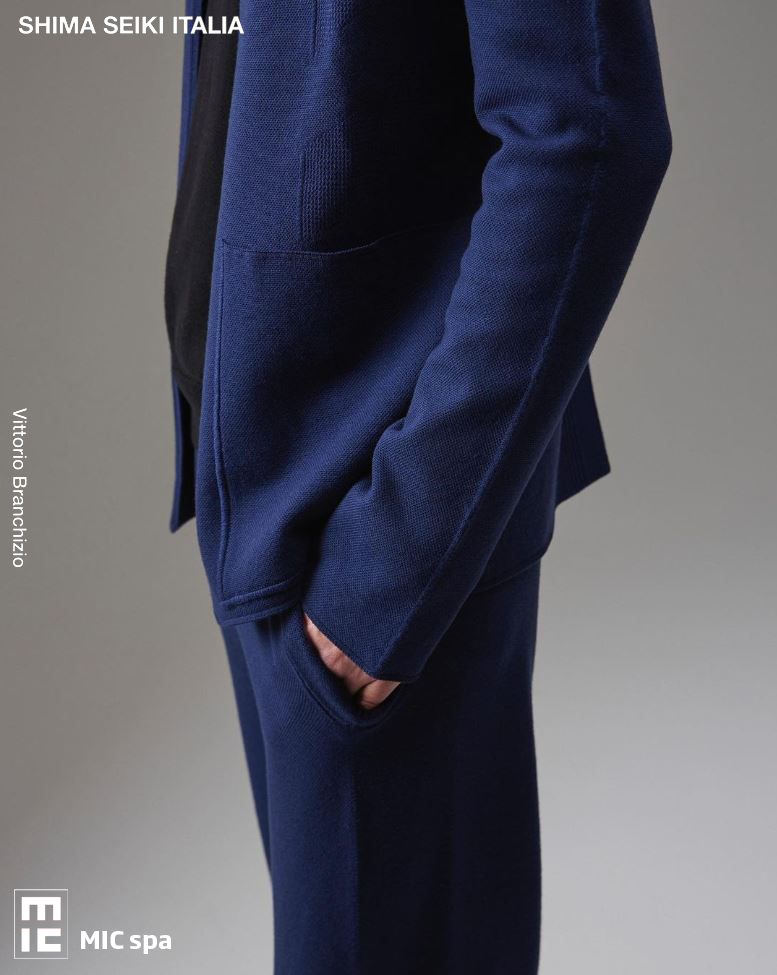 SOFT ELEGANCE
The 92nd edition of Pitti Immagine Filati was the occasion for the presentation of the Evolution Knit collection by Vittorio Branchizio, creative director of Shima Seiki Italia, at the stand of the Japanese company.
The 12 garments of the capsule collection exploit VB's material expertise and attention to experimentation, the precision and technology of Shima Seiki machines, and the technical characteristics of the different fibres used.
An elegant suit born from the deconstruction of the traditional male suit, recomposed in a jacket and pantolone wholegarment in vanisé, combining three different knit stitches in a single seam, with patch pockets and neckband.
Soft to the touch and with soft lines, the casual suit was produced on a SWG-XR 154 15 L machine in a production time of approximately 128'00'' for the jacket and 120'00'' for the trousers, using two different yarns: merino wool and elastomer.
- MERINO WOOL 2/30 colour blue - gives the garment softness, thermal insulation and brilliance.
- EXTÉ 2.7 SOFT is the elastic yarn - made in Italy by MIC - used in production for its technical properties of elasticity and shrinkage, which allow the merino wool fibre to be compacted, and for its availability in colour, respecting the colour tone of the garment, without indesirate veining.